Index Contents:
Hotelspec Talks to John Portman, Pg. 7
"The New York Marriott Marquis", by Gary L. Wilson, Pg. 13

"Sales Mean Service!" by Ezra Attia, Pg. 17


"The Challenges of Contemporary Hotel Design", by Neal Prince, Pg. 23**

American Hotels", by Sarah Tomerlin Lee, Pg. 30**

"Hotel Design in South East Asia", by Don Ashton, Pg. 34


"New Responsibilities in Designing the World's Hotels", by Dale Keller, Pg. 42**

"The Rewards and Frustrations in Sourcing in the Third World", by Robert Kittner, Pg. 42


"Business Travel, Tourism and the Hospitality Market", by Geoff Parkinson, Pg. 48
"Tourism in the United Kingdom", by Dr. Fred Lawson, Pg. 55
"Design of Sheraton Hotels in Iraq", by Klaus Muller, Pg. 57
"Hotel Architecture Should Preserve Cultural Integrity", by Peter Muller, Pg. 61
"How to Stay Creative with a Round-the-World Design Involvement", by John Graham, Pg 66
"Stripping Down History", by Robert Lush, Pg. 72
"New Faces for Old Hotels", by Todd Lee/Felicia Clark, Pg. 77
"Making a Model Presentation", by Josef Ransley, Pg. 80
"Tabler Talks about Hotel Architecture", by William Tabler, Pg. 84
"The Hirsch/Bedner Formula", by Howard Hirsch, Pg. 86
"Design Ideas A-plenty in Memphis", by Tom Thomley, Pg. 94
"The Better the Brief – The Better the Results", by Vernon Saunders, Pg. 99
"Defending the Role of the In-House Designer", by Stuart Guest, Pg. 103
"Talking About the Akasaka Prince Hotel", by Kenzo Tange, Pg. 137
"Designers Letter of Agreement", by Henry End, Pg. 122

Hotelspec Profiles: Individually Styled is the Steigenberger Formula, Pg. 108
Meridien – French 'Art de Vivre', Pg. 1115
Do It Yourself at Britannia Hotels! Pg. 120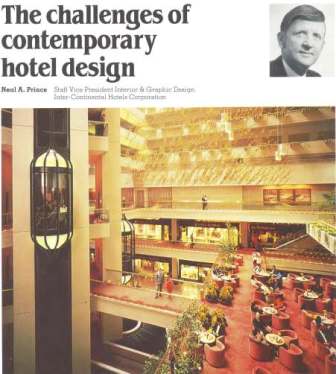 Neal Prince's Article:


"A group of eleven outstanding architects and designers were asked their views on three questions :
The first question :
"What architectural or interior projects of the past 50 years to you consider most outstanding?"

It was interesting too note that only one of the men interviewed mentioned any hotels as outstanding projects. Why? Are hotels an anathema to architects and designers? Don't great architects create outstanding hotels? John Portman, the one example mentioned, reawakened hotel design thinking with his revival of the atrium that, incidentally, had its American beginning in 1875 with a crystal-roof soaring seven stories above a central court of the original above a central court of the original Palace Hotel in San Francisco.

In fact, hotels in America began around 1820 with the 170 room Tremont in Boston. The new idea of cities needing hotels caught on and construction accelerated until 5,000 rooms a year were constructed between 1920 and 1930. And that was only in America. Why, then did not the architectural design of hotels become important? There may be an answer.

Around 1850, a development occurred that changed the hotel industry and could have been the first "straw" that discouraged that imaginative architect. With so many rooms now available, competition in selling these hotel rooms became paramount. Hotels had to be more than bricks and mortar. What to do? One enterprising hotel operator thought of a brand new idea - "maid service!" Someone would actually change the bed sheets from one customer to the next and occasionally clean the room. Believe it or not, this was a revolutionary concept that triggered a new approach to hotel marketing. Before long, guest services became more important than architectural theory. It quickly become apparent that for a hotel to operate efficiently and, more important, "profitably" it had to be designed from the "inside out'. And the "outside" really didn't matter - if the sign was large enough.

Today it is virtually impossible to estimate the number of hotel rooms being built in the world each year, and "competition" has magnified thousands of times. There is a demand for higher standards at competitive prices and comparisons can be freely made.

And yet, only one hotel made the 1982 fifty years list of outstanding projects. Well-known and great architects have tackled the problem of hotel design but usually become disenchanted by the rigorous demands of efficient hotel operations and marketing. Frank Lloyd Wright designed a widely publicized hotel for Tokyo. It's gone now but those who stayed there soon discovered that despite its beautifully integrated appearance, it was simply not designed for the human body. Comfort was non-existent. It was design indulgence.

Many of the overall architectural concepts so apparent in office buildings, museums or churches cannot be followed. Most times those edifices have a single contiguous function. But to some architects a hotel with a thousand rooms can be comparable to having a thousand private clients all clamoring for all their personal problems to be solved – and in only one building.

A favorite architectural term is "continuity of design throughout". The design expression of the hotel exterior cannot be followed throughout the hotel interior without a sense of boredom invading the mind of the hotel guests.

The hotel guest does not go to a hotel to work but after work is over. The guest requires variety to keep him captured in this one building. The restaurants have to be different places to explore and to spend money. The ballroom has to be designed for an exhibition hall as well as a wedding reception. The guest room cannot be an education in contemporary design; the guest wants to rest and comfort that comes from familiarity. These facts can be disquieting to an inspirational architect. Unfortunately an architect seldom gets a monumental inspiration in following such a demanding list of confining rules.

Will this problem continue? I hope not. The hotelier and the designer should understand each other's problems and approaches, so that the final product satisfies their needs and those of the public.

InterContinental welcomes any architect who studies the operational foundation of a hotel in depth before commencing design. Solve our problems and, InterContinental will help in any way to produce a great hotel that is also a great building.

The second question posed was :

"What do you think have been the greatest influences on design in the post 50 years?"

The answers to that question belied many of the answers to the first question. Let me give you an excerpt from one of the architects' answers :

"Media coverage. Trends and fads are expounded on with such authority that architectural permanence and history and being subverted. Clients are now more aware of the fashion of design and are commissioning short lived monuments".

I immediately question the use of the word "monuments". That is another "straw" on the back of a hotel architect. A hotel is simply not a monument. The greatest influence of hotel design has been the effort to retain the idea of exemplary service. The high cost of service has decreed that spaces must be designed with ease of maintenance in mind. Furniture and fabrics that require less care are required. Volume purchasing seems important. New social and technological changes must be given ever-increasing consideration. Lighting, safety and security factors, man-made products, computer, electronics, satellites, global communications – all must be seized and digested immediately into the hotel complex.

These influences have all come about in the last fifty years. Newer influences erupt every minute.

The third question was: "What major changes do you foresee for architects and interior designers in the future?"

That's a tough one …and hard to separate from Question Two. I suppose "specialization" is one approach. To really understand the nature of hotels an architect needs to specialize in hotels. But specialization is rare in an artistically creative person. I know of only two firms that more or less specialize in hotels but they seldom make the list of great buildings. Artistic challenges are rarely confined to one subject, but the approach should be considered.

The education of the hotel person, the architect and the interior designer is going to have to encompass change itself. Change today is a constant.

I mentioned the fashion of design. Hotels being primarily people oriented are usually fashion-oriented. Atmospheric environment, recently so popular, is going out of fashion. For instance, only a short time ago the design of a restaurant always started with a theme – English Pub, Louis XV, Arabian, Polynesian Village, Rustic Anywhere, Art Nouveau – I think the thematic approach finally most recently "Art Decoded" itself out of fashion.

Now, the interest is on materials, textures. Lighting and space and I think this trend will grow and stay with us until someone opens the Lunar Disneyland. Hotels are for people and must provide a service. If this service is out of tune with what is needed in a particular area at a given time then the operation will be a failure. The demand must be constantly reviewed because it is never static.

New ideas must be introduced while retaining the best of the old. The first step is a feasibility study to establish the type and level of accommodation that should be provided. The study also includes the local potential - - historic, architectural, scenic and cultural. The overall impression that the building will make on the Clientele and the community must also be considered.

The functions of the building must be studied to avoid possible conflict between circulation of staff and circulation of Clientele. Staff fatigue is critical in that it will impact efficiency, staff reaction to guests and the caliber of staff that can be recruited. Landscaping too has become an integral part of building. And, it is hard to understand why so little thought is given to the subject.

The reception area of a hotel although still requiring visual impact is gradually decreasing in size. A large lobby does not add to income. Its primary use is circulatory.

Restaurants have replaced the old fashioned hotel dining room. Outside entrances should be provided for these restaurants to attract the casual visitor and give the restaurant a separate identity from the hotel.

In the new approach to interior design, gimmicks and too-fashionable features that date rapidly should be avoided.

The problem of hotel planning as it relates to interior design, cost saving features and the accompanying problems and challenges of today is a vast, overlapping amalgamation of ideas and opinions. Although there are many solutions to the predicaments created by lower occupancy and rising cost, one of the most effective actions can be achieved through interior design. The realm of interior design is the only area of planning that is touched, felt and actually experienced by the guest. It is a visible and, in the final analysis, the most economical means of controlling or changing the image of a hotel. Unjustly, interior design is blamed frequently as a cause of lower occupancy instead of more obvious factors such as over-building, poor site selection, political instability, and even, in some embarrassing instances, inadequate management, inferior food, indifferent service and unskilled maintenance.

Interior design is not interior decoration. Interior design considers the necessary ingredients of environmental comfort such as heat gain and loss, lighting, the impact of outdoor conditions on the interior, and the problems of maintenance and guest-staff circulation. Further, the approach to hotel interior design differs greatly from interior decoration from an individual. The latter is dictated by the needs of one particular person or family, whereas hotel design is a coordinated effort between the functional requirements of hotel operations, the architectural concept and space allocation, the desires of the local hotel company, the limitations of restrictive budgets, and the harmony and market of the country in which a hotel is located. All these considerations are combined by the specialized interior designer to produce a profit making plant reflecting current international tastes of a widely diversified market.

Although standardization would appear to be desirable in a rapidly growing industry, the experience of InterContinental Hotels indicates that the most successful efforts are base on individuality related to the country of origin rather than standardization of design.

Each hotel in each location produces its own surveyed, conceptual and operational requirements for InterContinental; its own selection of interior designers, and its own problems of local market availability and manufacturing methods. However, the following outline of goals is generally applicable.

To reproduce good design based primarily on the functional needs and requirements of InterContinental Operations so that Management can fully promote the facilities and develop a high quality of service. The interior design must be approached simultaneously along the following five avenues :

1. Concept. First, we must ask ourselves questions and determine just what we intend selling. What is the prime objective for building the hotel? Is it for the business traveler, the tourist, or is it a resort? Is the hotel mainly for men, for women, a combination of both or a steady fluctuation? These questions lead directly to the next consideration:

2. Function. The purpose which each interior space is intended to service must be established and be suited to the purpose. The interior design should be based on past experience coupled with the use of current, practical innovations and ideas. Also of primary importance is a good look at the competition followed by a concentrated effort to offer a more appealing and lasting solution. This leads to a challenge in the next avenue approach:

3. Budget. In most cases there is a severe dichotomy in trying simultaneously to "lower the cost" and "meet the competition". This is a real blockbuster. Ingenuity can go only so far to overcome the clear-cut advantages of cold cash. To the uninitiated there are many short-cut answers :

(i): "Use stock furniture". Did you ever try to buy a chair at a department store and get it home the same day? You can't even buy the floor sample. And imagine the consternation that would be caused by asking for five hundred of the same chair - - a condition normal to hotel purchasing. Unfortunately, but understandable, there is no such thing as that warehouse-in-the-sky for storing vast quantities of "immediately available" items - - particularly outside of the United States. "But the manufacturer is geared or tooled-up for items on display', the doubter exclaims. Perhaps on the retail level, but not on the commercial hotel or contract level. Using a somewhat quicker or lazier way for the designer to fulfill his obligation. In the foreign field, this affront to local methods can lead to problems more time-consuming than specially designed, detailed and specified furniture.

(ii): In the short cut answer category, is the "use-one, color scheme" notion. This is fine if the operators, the managers, the local hotel owning company board members and all their wives like the same color scheme. We have found that most people respond to either a cool or warm color scheme and usually propose two schemes. But this is not the end - - in a large hotel there are conventional twin bedded rooms, conventional studio rooms, double bed rooms, typical suite living rooms and suite bedrooms and various types and advancing categories of special suites. It is rare, indeed, when management will agree that two color schemes are sufficient for all these room types. The short-cut answers could continue indefinitely, but let's approach the "lower the cost" angle from another direction. In the final analysis, interior design provides the most economical means of controlling the image of a hotel.

Therefore, this is an area in which we should search for the largest return on investment in the whole project rather than strict economy. Savings can be made in our next avenue of approach:

4. Fabrication. Construction provides the element of stability upon which the survival of interior design depends. To obtain sound construction and to affect a savings, the interior design drawings and specifications should not take precedence over local methods and available materials. At the same time, local products should not override the vital factor of maintenance in a hotel operation. Something local that deteriorates quickly should not be used and, on the other hand, something foreign that cannot be replaced or repaired locally should be avoided where possible. At InterContinental we attempt to use all possible local products that are feasible for hotel use. Beds and plumbing are the prime items standardized for the international guest and these are not without exception. This leads indirectly to our final avenue of approach.

5. Design. Herein lies the aesthetic problem on which most everyone has a firm opinion. Ventilation, electrical diagrams and the stress and strain of reinforced concrete are a mysterious language to the average layman, but with interior design, everyone always knows what he likes. The interior designer must create a result combining the best thinking and ideas of everyone involved and coordinate them into a smooth compatible whole.

InterContinental recently ran a survey in the form of a questionnaire among frequent users of hotels and the results range from the expected to the surprising. For example, although cleanliness is extremely important for a guest room, "attractiveness, comfort, homey and relaxing", were checked most frequently. One guest suggested that "hoteliers should try to create an atmosphere of hominess…most hotels are too impersonal and rather lonesome." This short of reply can quickly lead to the controversy of contemporary versus traditional with traditional or thematic usually winning with management and their guest. Volumes have been written on this phase of design and the pendulum of opinion is in constant motion.

The interior designer must adhere to one philosophy: To insure that the original design concept and subsequent development of each project is based not on the likes and dislikes of any one faction but expresses the taste and insures the comfort of the international guest. It also should utilize, wherever possible, the trades, manufacturers and craftsmen as well as the arts and crafts, ornamentation, styles, and traditions indigenous to the country in which a project is located.

But back to the third question:

"What major changes doe you foresee for architects and interior designers in the future?"

Jack Lenor Larsen gave an interesting answer to that questions that I would like to paraphrase, Larsen said, "I still see the great architectural revolution as being that point which we build from man outwards….man has always accommodated himself to what he can build. The interiors industry will come into its own through a ready-to-wear revolution. That is, when the most of the design, the best of the production and the major distribution efforts will be for most of the people".


Neal Prince, A.I.D., N.S.I.D. (A.S.I.D.), Numerous awards for interior designs have been received by Mr. Prince, including Institutions Magazine awards for the outstanding interior designs of the Hotel Intercontinental Genève, Geneva, Switzerland and the Hotel Siam InterContinental Bangkok, Thailand.