InterContinental Hotel was a subsidiary of Pan Am Airlines


* * * Webpage is being updated * * *
Who is Mr. Neal Prince? Mr. Prince is a trained Architect from Rice University, an Art Historian, Art Collector and a person with a vast passion for Motion Pictures and Theatre History, especially Set Designs. These elements came together to build a foundation to Mr. Prince's skills, which later became recognized as his ability for designing Hotel and Restaurant Interiors. Mr. Prince incorporated his own passions of above, into an International branding philosophy that remains as strong today as it was when he developed his philosophy of Hotel and Restaurant Designs, which is visible today, in Hotels worldwide. But what makes Mr. Prince different? He was a pioneer within this Industry, along with Dale and Pat Keller, of Hong Kong, in designing Hotels in countries that never had an International Hotel presence. Mr. Prince, along with Kenneth Smith (Interior Designer), Charles Alvey (Graphic Designer), Richard Simpson (Graphic Designer), William Embury (Interior Designer), Joe Grusczak (Interior Designer), James Ray Baker (Interior Designer) and Irene D'Alessio (Interior Designer) and many others were the first, to sent the standards for International Hotel Interiors. And what is incredible is that he did not have the grand budgets that most designers have today. Mr. Prince used local talents and products, when available and appropriate, to augment his designs, which, in return, allowed local Artist, Gallery Owners, Merchants and vendors to view InterContinental not as an invader, but as a partner in creating new sources of commence within the local economy. What is even more unique in Mr. Prince being different, was that Mr. Prince has always credited his success, not in the terms of "I", but "WE". Mr. Prince, being from Corsicana, Texas, has always remained modest and respectful and always have contributed his success due to the fact that designing hotels is a "TEAM" effort, from his Departmental Staff to his Professional Associate Designers that he had brought on to do a certain project for the vast inventory of InterContinental Hotel holdings. This website is to bring together the collections, resources, stories and images documenting a period of time, before computers, mobile phones, fax's or video conferencing. This website is to recapture the time when International Hotel Design Industry remained in its infancy before the growth and development into what we have today as multi billion dollar companies. Each Hotel on this website will encompass how Mr. Prince and his Staff and Professional Associates overcame the troubles of designing Hotels, from a historic point of view, to what was necessary to open the Hotels, maintain the Hotels, and what lessons were learned to be applied for the next project.

-webmaster
Hotel:
Tamanaco InterContinental Hotel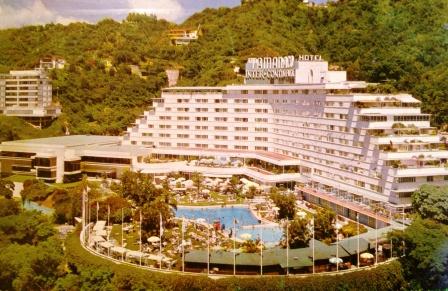 Location:
Caracas, Venezuela
The Hotel Tamanaco is unique for exciting vacations and succesful business trips. From suit or sport shirt ot dressing for dinner, you may enjoy its perfect service in a delightful setting and relax in the Tamanaco's friendly atmosphere of informal elegance. The 400 guest rooms and suites have glorious vistas of the sparkling city or broad valley and mountains. A magnificent swimming pool and cabana are set in 39 areas of tropical gardens. The main restuarant, Le Rendez-Vous, features a tempting menu of American and International Dishes - you may munch or dine on its outdoor terrace year round. The Salon Naiguata is Caracas most popular night spot with its faultless cuisine, international cabaret and prominent dance orchestras. Perfect for entertaining is the Cacique Bar and its adjacent outdoor Terrace with a breaktaking view. The rustie Cabana Club Snack Bar serves light luncheons and supplies pool-side service. There is also a Coffee Shop, barber and beauty shop, book and flower shop, travel agency and car rental service. Everything is in a this perfect hotel.
Business and pleasure are given equal attention at the Hotel Tamanaco, where a fully equipped gymnasium, spacious saunas, three lighted tennis courts and an Olympic size swimming pool have all been created to help make your stay a rewarding one.
The hotel is also home to a professional conference center, a bank, a lovely shopping aracade, airline, rent-a-car and cable offices, and an international bookshop.
Architect:
Lead Interior Designer: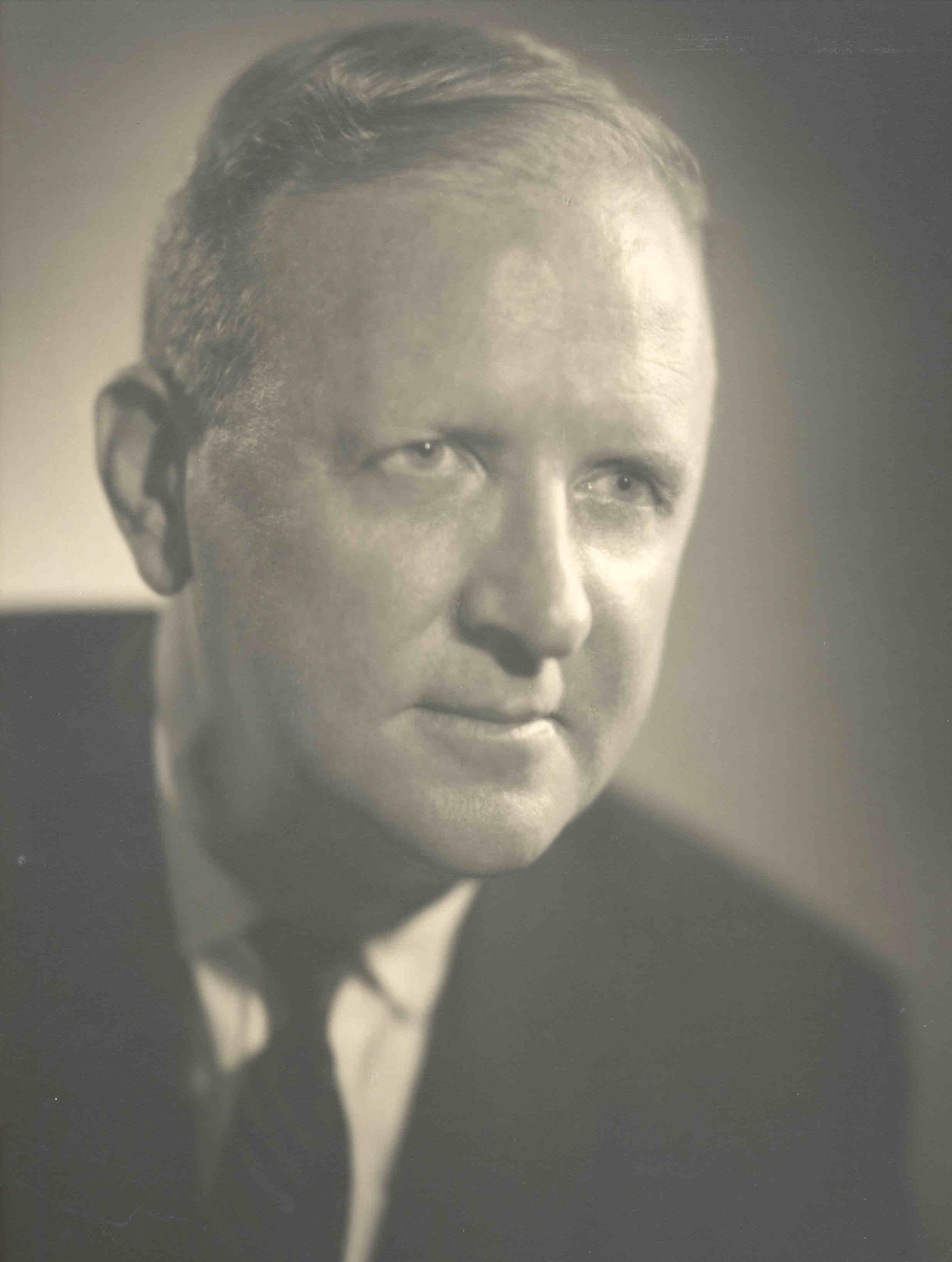 Neal A. Prince, R.A., A.S.I.D, Lead Designer
V.P. of Graphic and Interior Design Department, InterContinental Hotel Group 1960-1985
Outsourced Interior Designers:
G.B. Designs, Inc., New York, New York, United States
Rooms:
600 completely air-conditioned rooms, with suites that had private terraces. During this time in history, air-conditioned rooms were a new amenity of luxury to Hotels, as air conditioned rooms were not standard as they have become in today's Hotels.
Restaurants/Lounges:
Specialty restaurant, 2 informal restaurants, cocktail lounge, bar and snack bar were incorporated within the Hotel.
Bar Cacique:
Cafeteria Coffee shop:
El Naiguata Nightclub:
- No Photograph is available at this time
Rendez-Vous Restaurant:
Rotisserie Le Gourment Restaurant:
World Class dining with the most magnificent view in the city
La Brasserie Restaurant:
Classic American style coffee shop with an extra helping of hospitality
Terraza Cacique Resturant:
Ideal for inforaml evenings and breathtaking views of the Andes
El Punto:
The place to meet for business or conversation
La Cacique:
Created especially for cocktails and conversation
La Cabana:
For a fabulous buffet or a casual meal in an exquisite garden setting.
El Rincon:
A relaxing lounge and lobby bar.
Meeting Facilities:
8 function rooms accommodating up to 3,120 people.
A vital part of a thriving city, the Tamanaco supplies quiet, spacious surroundings perfectly tailered for businessman. Five attractive, efficient convention and conference salons accommodating 150 to 1,000 are augmented by excellent restaurants and entertainment facilties. With work completed enjoy a holiday without leaving your hotel. The airport is 30 minutes away by modern roads and there is parking for 500 cars. Truly, the Hotel Tamanaco adds resort pleasure to the world of business.
Conference Rooms:
Pool Facilities: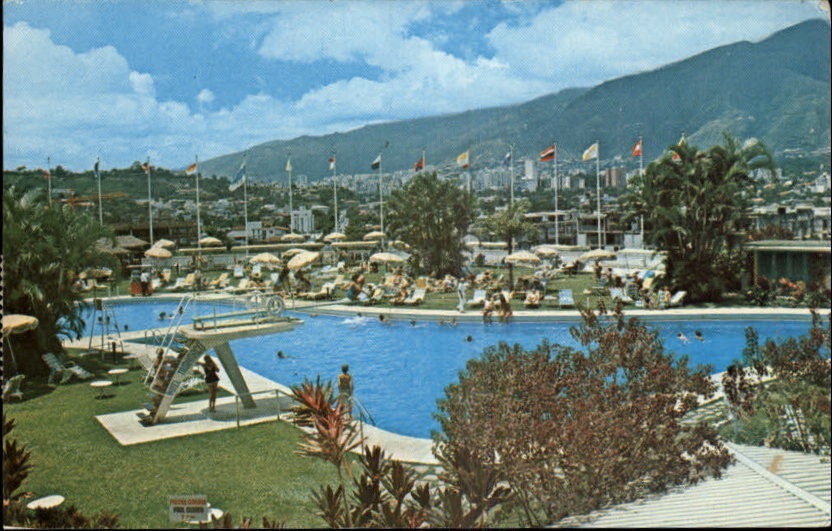 Comments:
In 1966, Neal Prince hired the G.B. Designs, Inc., located out of New York City, whereby the G.B. Designs was a partnership between Joseph Grusczak, A.I.D., President and James Ray Baker, A.I.D. to rehabilitation and the expansion of the entire existing Hotel. The Project Contractual Agreement included, but not limited to, as drawn up by Neal Prince, which stated that the contract included the complete renderings for the design and details of all fixed decor, selection of all furniture, fixtures and soft goods, documentation for bids and purchasing. The contract also included the rehabilitation for the Main Ballroom and Pre-function Rooms, rotisserie and Coffee Shop, with the final approval by Mr. Neal Prince, for the Hotel.
The G.B. Designs, Inc. Agreement was disbanded in 1972 and Joseph Grusczak and James Ray Baker continued to be hired by Neal Prince, on the behalf of the InterContinental Hotels during Mr. Prince's tenure.
Images held by the Collection: