Hotel:
El San Juan InterContinental Hotel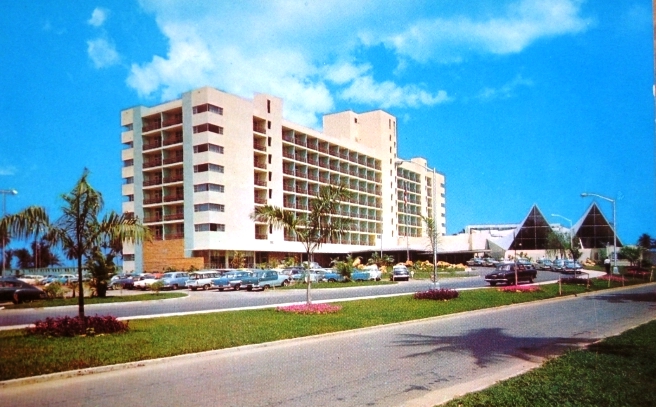 Architect:
Lead Interior Designer:


Neal A. Prince, R.A., A.S.I.D, Lead Designer
V.P. of Graphic and Interior Design Department, InterContinental Hotel Group 1960-1985
The following was a rendering of the Lobby: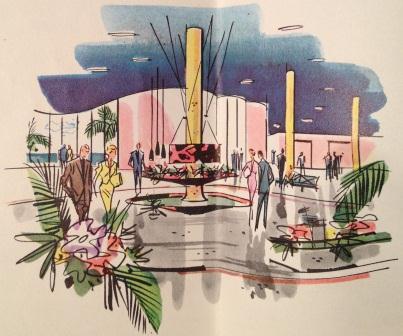 Later, the lobby was remodeled to reflect this photographic image: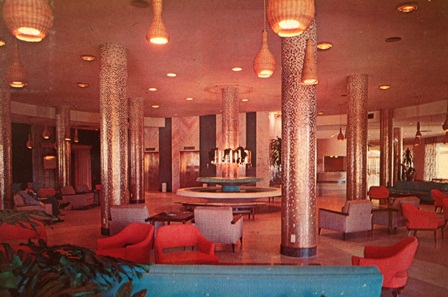 Dramatically situated in its own luxuriant fifteen-ace tropic estate, the magnificent new San Juan Intercontinental had welcomed you to a fascinating San Juan and the intriguingly beautiful vacation land of Puerto Rico. From its 1500-foot private ocean beach to its spectacular Night Clubs, the guest found excitement and relaxation, with modern elegance, cordial hospitality and genial service unsurpassed in the Caribbean.
Location:
San Juan, Puerto Rico
Rooms:
- No Photograph is available at this time, only renderings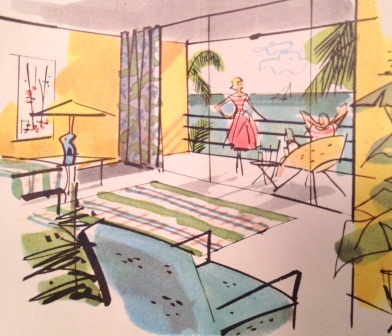 At the time, the guest were able to return back to their rooms with delightful modern comfort and tasteful decor of their room. The furnishings were modern, with spacious wardrobe closets and private baths. Every one of the rooms and suites were pleasantly air-conditioned, with each having its own terrace, with a breath-taking view of the blue Caribbean or the majestic mountains of Puerto Rico.
How does Mr. Prince's identify an outstanding Hotel?
Response: When you arrive at the Hotel, telephone room service and order a club sandwich to be delivered to your room. Once the room service had delivered your requested club sandwich, take a moment to access how it was prepared, what materials they used to create your club sandwich and then taste the sandwich. Mr. Prince firmly believes, from 55 years of travelling around the world that if a Hotel is able to prepare the "simple" club sandwich correctly, then that Hotel is being operated correctly.
Restaurants/Lounges:
- No Photograph is available at this time, only renderings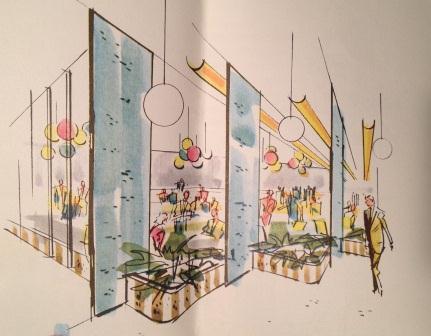 Santiamen Coffee Shop** - was designed for a delicious breakfasts, informal luncheons and dinners, or tempting evening snacks.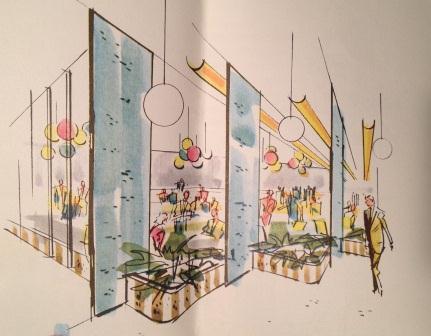 The Soda Bar** - A sparkling, ultra-modern room with a delightful outdoor covered patio where the guest enjoyed their favorite treats from the kitchens or soda bar in luxuriant tropic surroundings.
The Cofresi Bar and Cocktail Lounge** - was a colorful rendezvous that had invited the guest to linger and make new friends. Its decor was a happy blending of modern beauty and gay tropic atmosphere...revolving around the central motif of an intriguing copper banana tree.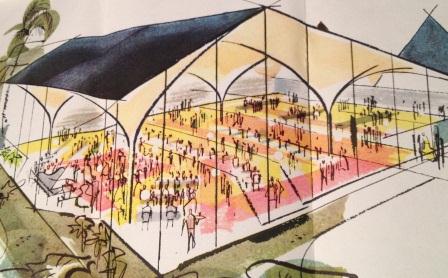 Tropicoro Night Club** - A creation of the International famous designer Max Borges, Jr., this club was the most spectacular club in Caribbean at the time. A magnificent golden room with dramatic parabolic ceiling and a background of lush tropic gardens. From your table on any of the three terraced levels, you had an unobstructed view of the beautiful stage and the thrilling performances of any of the world-famous entertainers. On a gleaming circular floor, the guest could have danced to the scintillating Latin and American rhythms of fine dance orchestras. Dining too was incorporated into the design, which became a wonderful experience of this elegant room, where you savor the Puerto Rican and the continental delicacies at their very delicious best, at the time.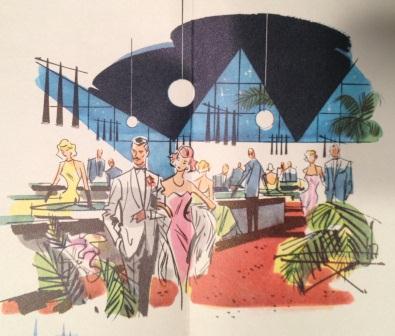 Casino San Juan** - which was an elegant, inviting, distinctive...but exciting beautiful casino that was under the same dramatic parabolic roof as the Tropicoro Night Club. The towering walls were of crystal-clear glass separate the two, and given the delightful effect of one great room. In that atmosphere of spacious modern elegance.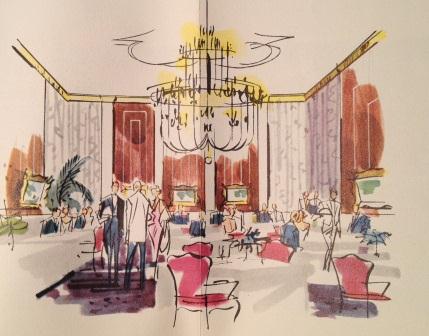 Le Pavillon Dining Room** - This famous Intercontinental Hotels dining excellence achieves its peak of perfection in this distinctive restaurant. At the time, the atmosphere of this French elegance, with every meal, created a dining experience that was the talk of the town. This restaurant included Latin and continental dishes, as well as your American favorites...prepared with a master touch by world-famous chefs of the time.
** -Renderings were done by W. David Shawn
Meeting Facilities:
- No Photograph is available at this time, only renderings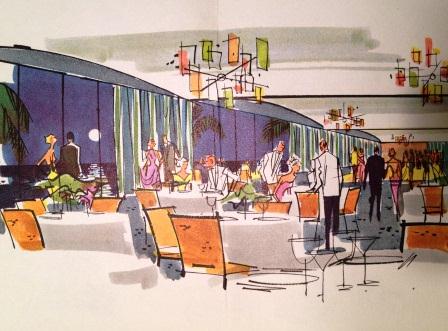 Isla Verde Room - This meeting room was a perfect spot at the time for a delightful conference, an ideal location for all types of group meetings. A wide selection of air-conditioned public rooms were available to accommodate groups of all sizes. This tremendous ballroom that accommodated up to 1,000 persons for a banquet, or 1,500 for a conference at the time. It also could have been divided to serve groups of 750 people, 500 people or as little as 250 people. The adjoining the Isla Verde Room were refined reception rooms which could have taken up to 325 persons for cocktails or pre-banquet meetings. At the time, these rooms were equip with the latest lighting, sound equipment and other conveniences at that time.
Pool: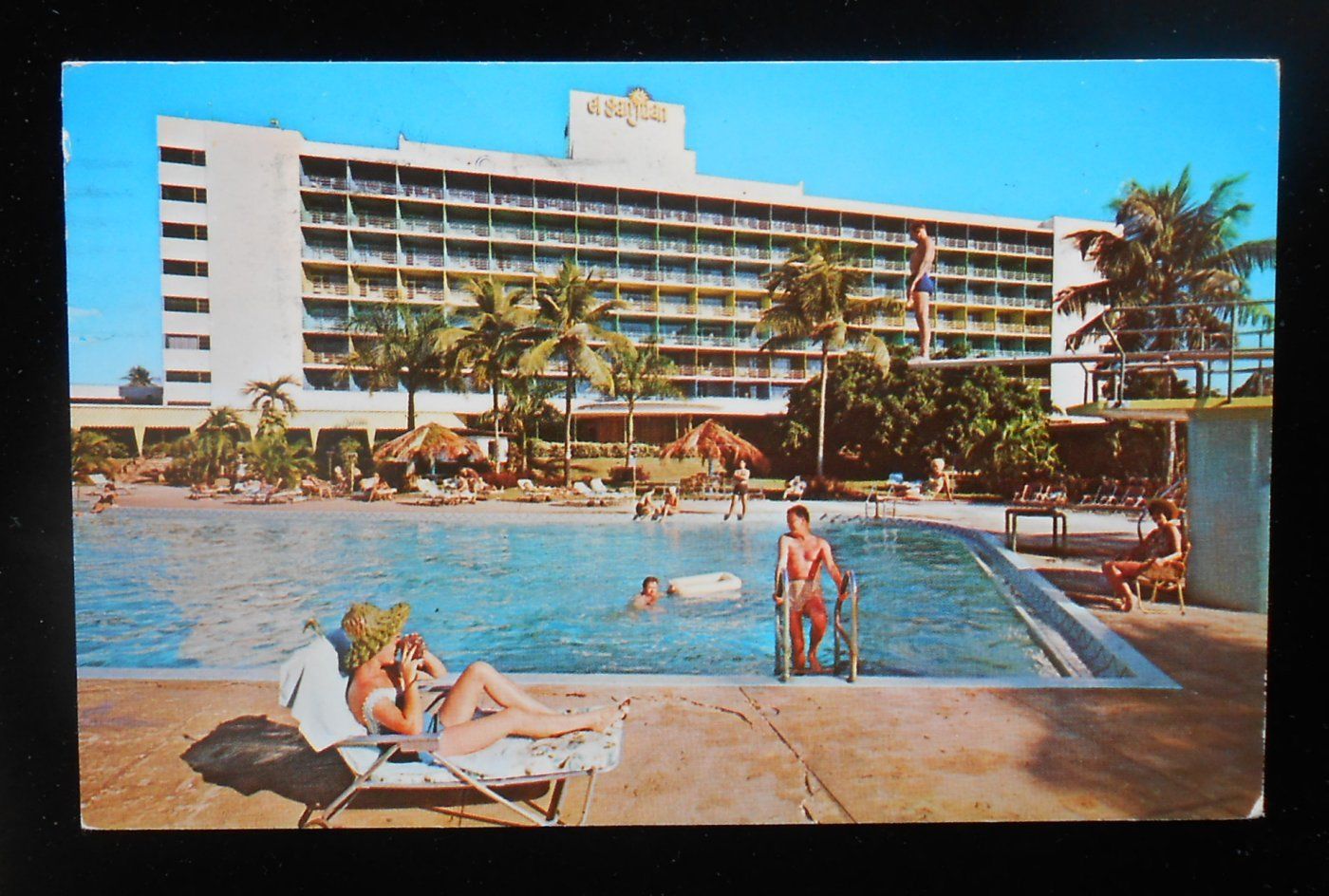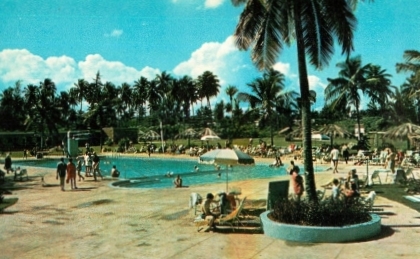 Images held by the Collection: