Who is Mr. Neal Prince? Mr. Prince is a trained Architect from Rice University, an Art Historian, Art Collector and a person with a vast passion for Motion Pictures and Theatre History, especially Set Designs. These elements came together to build a foundation to Mr. Prince's skills, which later became recognized as his ability for designing Hotel and Restaurant Interiors. Mr. Prince incorporated his own passions of above, into an International branding philosophy that remains as strong today as it was when he developed his philosophy of Hotel and Restaurant Designs, which is visible today, in Hotels worldwide. But what makes Mr. Prince different? He was a pioneer within this Industry, along with Dale and Pat Keller, of Hong Kong, in designing Hotels in countries that never had an International Hotel presence. Mr. Prince, along with Kenneth Smith (Interior Designer), Charles Alvey (Graphic Designer), Richard Simpson (Graphic Designer), William Embury (Interior Designer), Joe Grusczak (Interior Designer), James Ray Baker (Interior Designer) and Irene D'Alessio (Interior Designer) and many others were the first, to sent the standards for International Hotel Interiors. And what is incredible is that he did not have the grand budgets that most designers have today. Mr. Prince used local talents and products, when available and appropriate, to augment his designs, which, in return, allowed local Artist, Gallery Owners, Merchants and vendors to view InterContinental not as an invader, but as a partner in creating new sources of commence within the local economy. What is even more unique in Mr. Prince being different, was that Mr. Prince has always credited his success, not in the terms of "I", but "WE". Mr. Prince, being from Corsicana, Texas, has always remained modest and respectful and always have contributed his success due to the fact that designing hotels is a "TEAM" effort, from his Departmental Staff to his Professional Associate Designers that he had brought on to do a certain project for the vast inventory of InterContinental Hotel holdings. This website is to bring together the collections, resources, stories and images documenting a period of time, before computers, mobile phones, fax's or video conferencing. This website is to recapture the time when International Hotel Design Industry remained in its infancy before the growth and development into what we have today as multi billion dollar companies. Each Hotel on this website will encompass how Mr. Prince and his Staff and Professional Associates overcame the troubles of designing Hotels, from a historic point of view, to what was necessary to open the Hotels, maintain the Hotels, and what lessons were learned to be applied for the next project.

-webmaster
Hotel:
InterContinental London Hotel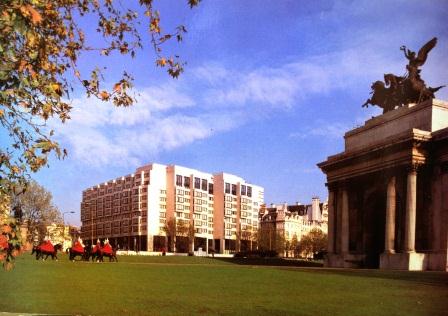 Architect:
Frederick Gibberd & Partners, London, United Kingdom
Lead Interior Designer:
Neal A. Prince, R.A., A.S.I.D, Lead Designer
V.P. of Graphic and Interior Design Department, InterContinental Hotel Group 1960-1985
Outsourced Lead Interior Designer:

Frederick Gibberd & Partners, London, United Kingdom
Location:
London, United Kingdom
Rooms:
497 completely air-conditioned and centrally heated guestrooms. Situated in the most prestigious spot in London, overlooking Hyde Park and Green Park on the edge of Mayfair.
- No Photograph is available at this time-
How does Mr. Prince's identify an outstanding Hotel?
Response: When you arrive at the Hotel, telephone room service and order a club sandwich to be delivered to your room. Once the room service had delivered your requested club sandwich, take a moment to access how it was prepared, what materials they used to create your club sandwich and then taste the sandwich. Mr. Prince firmly believes, from 55 years of travelling around the world that if a Hotel is able to prepare the "simple" club sandwich correctly, then that Hotel is being operated correctly.
Restaurants/Lounges:
Specialty restaurant, informal restaurant, cocktail lounge and discotheque
Le Soufflé Bar -
Le Soufflé Restaurant -
Photographs not available at this time of the Interiors of the Restaurant. However, below reflects one of Charles Alvey and Richard Simpson's InterContinental Graphics Departmental examples how they used their creative skills of designing menus to reflect the Restaurant within the Hotel.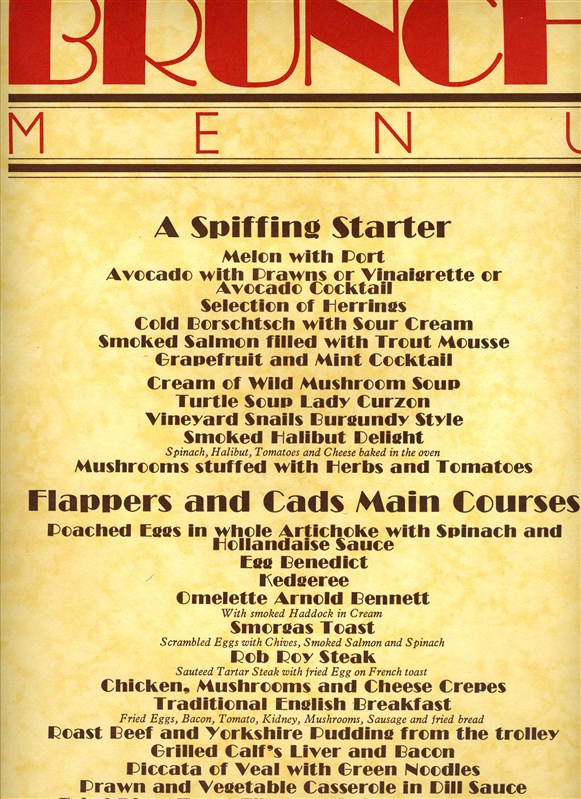 The above ground floor plan reflects the porte-cochère, foyer, lounge, guest elevators, reception in cashier, coffee house, Le Soufflé Bar, Le Soufflé Restaurant, service elevators, kitchen, staff, grand ballroom entrance, shops, elevator to the car park and the ramp down to the car park.
Meeting Facilities:
10 function rooms accommodating up to 1,450 people
- No Photograph is available at this time-
Floor Plans:
Coffee House ceiling rendering -
Coffee House Floor Plan -
Grand Ballroom Ceiling Rendering -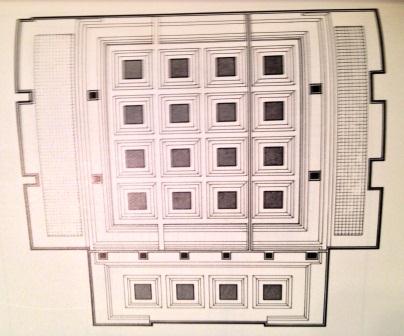 Light Fixtures -
Grand Ballroom Photograph -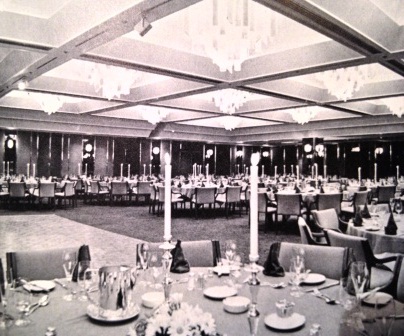 Ground Floor -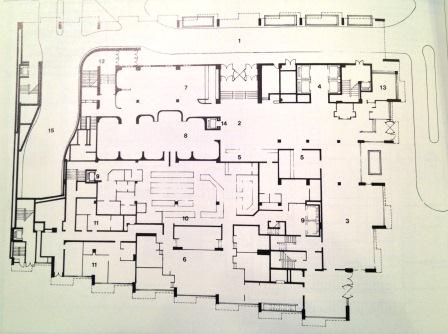 Images held by the Collection: