Who is Mr. Neal Prince? Mr. Prince is a trained Architect from Rice University, an Art Historian, Art Collector and a person with a vast passion for Motion Pictures and Theatre History, especially Set Designs. These elements came together to build a foundation to Mr. Prince's skills, which later became recognized as his ability for designing Hotel and Restaurant Interiors. Mr. Prince incorporated his own passions of above, into an International branding philosophy that remains as strong today as it was when he developed his philosophy of Hotel and Restaurant Designs, which is visible today, in Hotels worldwide. But what makes Mr. Prince different? He was a pioneer within this Industry, along with Dale and Pat Keller, of Hong Kong, in designing Hotels in countries that never had an International Hotel presence. Mr. Prince, along with Kenneth Smith (Interior Designer), Charles Alvey (Graphic Designer), Richard Simpson (Graphic Designer), William Embury (Interior Designer), Joe Grusczak (Interior Designer), James Ray Baker (Interior Designer) and Irene D'Alessio (Interior Designer) and many others were the first, to sent the standards for International Hotel Interiors. And what is incredible is that he did not have the grand budgets that most designers have today. Mr. Prince used local talents and products, when available and appropriate, to augment his designs, which, in return, allowed local Artist, Gallery Owners, Merchants and vendors to view InterContinental not as an invader, but as a partner in creating new sources of commence within the local economy. What is even more unique in Mr. Prince being different, was that Mr. Prince has always credited his success, not in the terms of "I", but "WE". Mr. Prince, being from Corsicana, Texas, has always remained modest and respectful and always have contributed his success due to the fact that designing hotels is a "TEAM" effort, from his Departmental Staff to his Professional Associate Designers that he had brought on to do a certain project for the vast inventory of InterContinental Hotel holdings. This website is to bring together the collections, resources, stories and images documenting a period of time, before computers, mobile phones, fax's or video conferencing. This website is to recapture the time when International Hotel Design Industry remained in its infancy before the growth and development into what we have today as multi billion dollar companies. Each Hotel on this website will encompass how Mr. Prince and his Staff and Professional Associates overcame the troubles of designing Hotels, from a historic point of view, to what was necessary to open the Hotels, maintain the Hotels, and what lessons were learned to be applied for the next project.

-webmaster

Hotel:
InterContinental New Orleans Hotel
Location:
New Orleans, Louisiana, United States
Architect:
Lead Interior Designer:
Neal A. Prince, R.A., A.S.I.D, Lead Designer
V.P. of Graphic and Interior Design Department, InterContinental Hotel Group 1960-1985
Rooms:
500 completely air-conditioned in the heart of New Orleans' business and financial area, adjacent to the Pan American Life Insurance Company Building. The hotel is just a short walk from the French Quarter, the Superdome, the Rivergate Convention Center, and the New Orleans Exhibit Hall.
How does Mr. Prince's identify an outstanding Hotel?
Response: When you arrive at the Hotel, telephone room service and order a club sandwich to be delivered to your room. Once the room service had delivered your requested club sandwich, take a moment to access how it was prepared, what materials they used to create your club sandwich and then taste the sandwich. Mr. Prince firmly believes, from 55 years of travelling around the world that if a Hotel is able to prepare the "simple" club sandwich correctly, then that Hotel is being operated correctly.
Restaurants/Lounges:
Specialty restaurant, informal restaurant, cocktail lounge, bar and poolside snack bar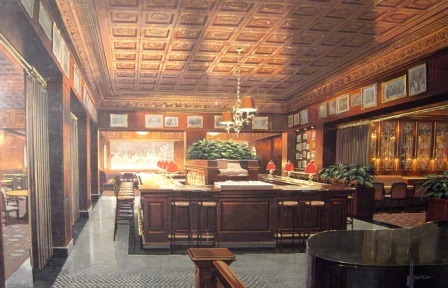 Artist:

Syd Mead (1933- ) American
Title¹: InterContinental New Orleans, New Orleans, Louisiana, United States (c.1984)
Date: 1984
Medium: Water color, marker, paint
Materials: Poster Board
Markings: Signed by Artist, Lower right corner
Dimensions: 22-½" x 28"
Framed: Yes
MEAD, Sydney Jay (1933- ) AMERICAN
Mr. Mead was born in St. Paul Minnesota, July 18th, 1933 but spent only a few years there before moving to what would be the second of many homes throughout the western United States prior to graduating from High School in Colorado Springs, Colorado in 1951. After serving a three year enlistment in the U.S. Army, Mr. Mead continued on to the Art Center School in Los Angeles, (now the Art Center College of Design, Pasadena) where he graduated with great distinction in June of 1959. He was immediately recruited by the Ford Motor Company's Advanced Styling Studio under the management of Elwood Engle which he left after 2 years in order to accept a variety of assignments to illustrate books and catalogues for large corporate entities such as United State Steel, Celanese, Allis Chalmers and Atlas Cement. In 1970, he launched Mr. Mead Inc. in Detroit, Michigan to accommodate the high caliber of offers he received, most notably the PHILIPS ELECTRONICS. As the principal of his newly formed corporation in the 1970's, Mr. Mead spent about a third of his time in Europe primarily to provide designs and illustrations for Philips of Holland. Together with his roster of major American clients, he continues to make his creative mark, internationally. Throughout the 1970's and 1980's, Mr. Mead, Inc. provided architectural renderings both interior and exterior, for such clients as Intercontinental Hotels, 3D International, Harwood Taylor & Associates, Don Ghia, and Gresham & Smith, to mention a few. His architectural clients have recently expanded to include the New York firm of Philip Koether Architects for which he designed the interior of a Manhattan eatery. Design activity accelerated after the corporate and personal move to California in 1975. In 1979, projects began to include work with most major studios, on such feature films as Star Trek: The Motion Picture, followed by, Bladerunner, TRON, 2010, Short Circuit, Aliens, Time Cop, Johnny Mnemonic, and most recently, "Mission Impossible-3" starring Tom Cruise for director J.J. Abrams. Beginning in 1983, Mr. began to develop close working relationships with a number of major Japanese corporate clients, including; Sony, Minolta, Dentsu, Dyflex, Tiger, Seibu, Mitsukoshi, Bandai, NHK and Honda as well as contributing to two Japanese film projects, The New Yamato and Crises 2050. In the 1990s', Mr. Mead supplied designs for two Japanese toy icons, "The New Yamato" and all eight robot characters in the new Turn-A Gundam mobile suite series which were also seen as characters in Television shows.
With transportation design as his first love, Mr. Mead seldom misses an opportunity to provide his unique blend of futurism and believability to those projects consisting of a vehicle that travels from "A" to 'B". Whether it be designing solar powered unicycles, show cars, luxury yachts, cruise ships, or the interiors of private 747's, each receives the same attention to detail within a perfectly designed scenario. This combination has become a Mr. Mead trademark and has been seen in everything from concept cars for Ford Motor Company to futuristic "Hypervans" which have been the subject of his latest full color illustrations.
Mr. Mead continues an active schedule of one man shows, which started with an invitation to exhibit at Documenta 6, Kassel, West Germany in 1973. His work has since been exhibited in Japan, Italy, California, and Spain. In 1983 in response to an in invitation from Chrysler Corporation to be a guest speaker to their design staff, Mr. Mead assembled a selection of slides to visually enhance his lecture. The resulting presentation was a resounding success and has since been expanded and enhanced with computer generated imagery specifically assembled at the requests of such clients as Disney, Carnegie Mellon University, Purdue, Pratt University, the Society of Illustrators., and many others both academic and corporate around the world. In March of 2010, Mr. Mead completed a four city tour in Australia to capacity audiences at each venue.
Always an advocate of new technologies, Mr. Mead has expanded his horizons to include computer illustrations and graphics by mastering a variety of Software's. Beginning with the official poster of the 1991 Concours d'Elegance "Eyes on the Classics" in Detroit, Michigan, Mr. Mead has attempted to utilize the latest in available techniques to their best advantage. In 1993, a digital gallery comprised of 50 examples of his art with interface screens designed by Mr. Mead became one of the first CD ROM's released in Japan in 1992 and in 2004 in response to many requests, cooperated with the Gnomon School of Visual Effects to produce a 4 volume, "How To" DVD series titled, "TECHNIQUES OF SYD MEAD" which continues to be sought after by designers around the world.
His one man show, "Cavalcade to the Crimson Castle" consisting of 114 original paintings and illustrations, enjoyed a three month showing at the Center for the Arts in San Francisco in the Fall of 1996. The highlight of the show turned out to be Mr. Mead's presentation and lecture attracted an audience that exceeded the available capacity of the auditorium. Subsequent personal appearances at schools across the country have attracted record numbers. A touring exhibition of his work is now in the planning stage to mark the 40th anniversary of Syd Mead Inc.
In February 1998, Mr. Mead relocated his studio to Pasadena, California, where he continues to be involved in a variety of design projects. He recently completed work on a documentary of his career with director Joaquin Montalvan, "VISUAL FUTURIST", was released in May of 2007 on DVD and is available through the virtual Oblagon bookstore on the Mr. Mead official webpage WWW.SYDMEAD.COM . Mead attributes success in an astonishing range of creative activities to the premise that imagination…the idea, supersedes technique. "There are more people in the world who make things than there are people who think of things to make."
Mr. Syd Mead and Mr. Neal Prince have been friends for many years. Mr. Mead was asked by Mr. Prince to complete all of the renderings for the proposed new restaurant designs for the St. Anthony InterContinental Hotel in San Antonio, Texas in 1980. As well as for the InterContinental New Orleans Hotel Restaurant, in Louisiana in 1981. The Trust has retained and currently holds these two works of art by Mr. Mead as Mr. Prince refers to these two renderings as "rare masterpieces of true renderings from the Master Artist himself, Mr. Syd Mead". These renderings reflect the work of a master, which was "not" done by any computer generated program, but with the skills of his own hands. These two renderings from a naked eye would assume they would be a photograph – but again, by his own artistic hands and formally educated eyes by which Mr. Mead is able to create these two masterpieces for further generations to appreciation and admire. As this craftsmanship and discipline, due to advancement of software applications, are no longer taught, and thus, these forms of art become priceless.
To further review Syd Mead Futurist Official Website to many of his great Worldwide known exhibits of his talents, please go to http://www.sydmead.com/v/01/home/ exhibiting his works and his long Professional Bio.
Meeting Facilities:
8 function rooms accommodating up to 1,530 people
Comments:
Images held by the Collection:
The images of the collection are another example of the detail graphics and designs that were created by the talents of Charles R. Alvey and Richard Simpson, of the InterContinental Hotel Corporation's Department of Interior & Graphics Design. This image is another example of InterContinental Hotel's competitors copied for their own Graphic's applications. In some hotels, this image is used to this day.